For the first time since late June I went to the theater because TCM and Cinemark present a 35th anniversary screening of Fast Times at Ridgemont High. There's an illusion that movies nowadays present far more excess in adult content than films of the past. Personally, I find that to be bullshit because there are very few films during my lifetime that have made it to theaters and present something that is equivalent to the experience regarding adult content quite like Phoebe Cates shedding her bikini top. This softcore nudity of this film is far more of an experience than comedies nowadays which seem to always rip off There's Something About Mary, attempting to replicate the formula of mainstreaming gross out humor that film did so well.
This film is based off a nonfiction book by Cameron Crowe about his experience posing as a high school at the age of 20 to research the high school experience in 1980. It must be a faithful adaptation because to me this film feels like one of the accurate portrayals I've seen in a film. The drug and sex scenes are reminiscent of youth and not over the top in a National Lampoon straight to video way.
Fast Times at Ridgemont High is part of the teen sex comedy wave that came in during the early 1980s. By the mid to late 1980s this type of film was pushed out of the mainstream spotlight when John Hughes offered an alternative to the hormonal portrayal of teenagers. Some view the John Hughes teenager as more of an intellect and accurate portrayal of actual person. A differing opinion would be that they are more of a portrayal of what Reagan era parents imagine their children to be and perhaps what they wish they were.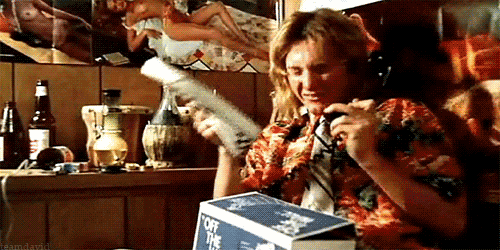 "That was my skull."
Oddly enough, this film is credited for making Van shoes popular nationwide and identifying it as something associated with the fashion of California surfers and skaters.
One reason why I love Fast Times so much and why this moderate successful film over the years became a cult classic that was later selected for the National Film Registry is it's a quality uncensored look at American teenagers compared to films that came after it. While the films of John Hughes come across as polished up, this one feels very natural and organic, as if a camera crew is following real teenagers of the era around in order to create something for a time capsule.
While this film is very explicit and close to softcore porn like the sex comedies of the era, Fast Times At Ridgemont High at the same time possesses very high level of quality. It's incredible the way this film balances out drug references and nudity along with fleshed out characters. There's a powerful feeling I received from this film because all of the main characters felt like real people whose lives you're watching being played out. It's very rare that you see a film where everything feels so natural and organic like this one.
The cast is amazing for this one. Jennifer Jason Leigh most notably for me gives a wonderful performance. The rest of the main cast gives great performances with the well written characters they're given but Leigh truly stands out as an innocent virgin who within the course of a year does a lot of growing up. Ray Walston as Mr. Hand is a great performance and well written role that has sprinkled wonderful moments as he spars with Sean Penn as Jeff Spicoli who gives a wonderful comedic performance with perhaps the most accurate representation of a comical stoner on film.
Mr. Hand was intended for Fred Gwynne who turned it down due to the sexual content in the film. Apparently he was as stiff in real life as he was in the Munster makeup.
Fast Times at Ridgemont High is a film that after 35 years continues to age well. The explicit side is far more rebellious compared to the somewhat tame and conservative entertainment today. As mentioned previously there is a raw and organic feel to this film with an equal amount of high quality.