In honor of Spider-Man: Homecoming I thought I'd share a clip of some guy getting a blowjob in a Spider-Man costume.
I gotta be honest, the last thing I see myself doing is sitting in a theater and watching yet another Spider-Man film. The third Spider-Man in fifteen years and there's still money to be made? Na, I'll be at home when the sequel to this one is released and everybody is once let down when they try to fit three villains into the film.
You fucking had Jamie Foxx Amazing Spider-Man 2….fuck Big Fat Liar and Chronicle.
Amazing Spider-Man 2 or Blankman reboot? 
Here's to hoping they get Black Panther right.
This clips features a busty Brit dressed as Anne Hathaway Catwoman since I guess she had it lying around the house from Halloween 2012, when every lonely horny girl went as Catwoman since that year Catwoman was the choice for basic bitches like Daddy's Little Monster shirts were post Suicide Squad.
This is what happens when fathers refuse to hug you but will buy you any comic book you want.
Speaking of Catwoman, I have zero time for nostalgic cocksuckers who try to sell out on the idea that Batman Returns is a good movie. If you sat through that movie as an adult and still think it's good, we need to travel ban your ass. That movie is so early 90s generic goth it feels like a nineteen year old saw Nightmare Before Christmas, blared Nine Inch Nails on the way home and squeezed out a script.
And the people who say Michelle Pheiffer is the best Catwoman? Really? Catwoman who resurrects like Christ and says bullshit like "I'm Catwoman, hear me roar?" Give me a fucking break. Somebody should've thrown you in a sewer as a baby like Pee Wee Herman did Penguin in that movie.
The 60s Batman show alone had three Catwomen who are better than Pheiffer…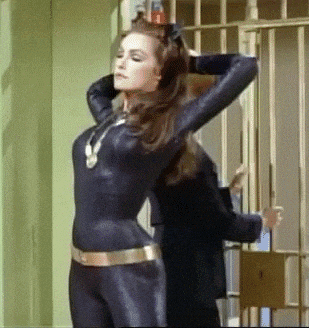 So if there's anything to take from this post…fuck Spider-Man: Homecoming. Almost two and a half hours, PG-13 and TWO post-credit sequences? I've seen Logan, I can't be taking steps back after that masterpiece.
Just today I read something about how they threw in a random scene where Tony Stark calls from an Indian wedding wearing a kurta surrounded by Indian women just for the sole reason of a higher box office in India. Jesus fucking Christ….. How fucking lame is that?
Marvel be like "How do you do fellow Indians?"
That just makes me wish there was a Bollywood version of Spider-Man and not another generic American version.
I probably won't be seeing this regurgitation of a Spider-Man movie I saw fifteen years ago but I'm always ready to watch a dude in a costume slinging web on a bitch's tits.
This is what I use when I want to go to bed early and need to fake an orgasm