Judging by the title you can guess that this clip is going to begin with some shitty Lifetime quality acting before you get to the stuff you can masturbate to, unless your fetish is pornstars failing at acting.
I really don't understand why pornos have storylines. There's a reason these people have to be naked in order to be allowed in front of a camera. You know why Elizabeth Berkley doesn't get phone calls outside a Saved By The Bell reunion? Because she had to flash her pussy lips to do something that wasn't Saturday morning television.
So this video begins with a dude walking in on his stepmom chatting up some guy that isn't his dad, her attempting to shut him up with cookies and when that doesn't work swallowing his cock whole. I wish it was this easy to blackmail people into sucking your dick. My grandma was a little short on my birthday money this year and I think if she doesn't come through with the extra ten bucks I'm going to push her down the stairs, smash her Life Alert button and demand she blow me or I'm not calling the ambulance.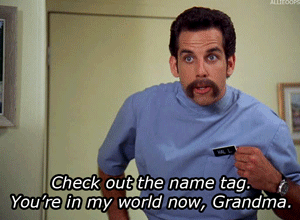 So I looked up the pornstar in this video because I'm always curious how old pornstars are when playing milfs. Allison Tyler, popular milf porn star was born in 1990. This shit needs to stop. If you're giving your stepson a naughty handjob you better have at least been going through puberty when the Challenger blew up.
If this didn't fuck you up sexually during puberty I don't wanna see you in a milf porno! 
#MakeMilfPornGreatAgain
I look Nina Elle up and it doesn't say her age but does say that she was born in Germany. So I'm thinking this bitch is some kind of demonic vampire that sucked the blood out of every citizen in some village and then made her way to America to suck up cum instead of blood.
Side note: The Monster Squad is the only time I found Dracula cool.
And boy was I right because just when I was about to cum it zooms on her face, her eyes glowing red and she screams…..
IT AIN'T NO FUNERAL PARLOR
IT AIN'T THE TERROR DOME
WELCOME TO HELL MOTHA FUCKA!
A purple tongue proceeded slivered from her mouth as the house crumbled into pieces, revealing that they were in hell. Nina then transforms into her true self, a horrifying demonic like creature with wings, sinking her claw feet into the shoulders of her male co-star and letting out a terrifying screech before flying off holding the guy by her feet.
This is what caused me to shoot a thick burst of cum all over my laptop, practically drowning the keyboard in foamy bubbling hot liquid.
So is this a clip worth putting a banana peel between your mattresses to?
P.S.- When I had this video paused, an advertisement showed for how to get rock hard erections and it showed a gif of a guy fucking a jack-o-lantern carved watermelon. Just keep that in mind boys the next time your lady says she's down for anal but only if your cock is hard enough to give her a concussion.
https://www.pornhub.com/view_video.php?viewkey=ph593ab5d4b9b42